By 2023, the gig economy is predicted to be worth $455 billion globally, which represents more than 17% growth year on year - but what impact will it have on HR practices in the future?
What is the gig economy?
The gig economy is a way to describe a labor market that relies on non-employed contractors of some description.
Gig workers include Uber and Lyft drivers, Airbnb hosts, and TaskRabbit services, but also include seasonal workers, independent contractors, temporary staff, volunteers, on-call workers and consultants - so a wide range of different types of workers.
The etymology of the term "gig economy" comes from the world of musicians and performers, who would book single or short-term appearances at different venues which were known as gigs. Gigs for freelancers and independent contractors can range from working on specific projects, creating marketing content, or selling art that they have created.
Why is it important?
The popularity of the gig economy for the worker can be characterized by the fact that 76% of gig workers would not quit their freelance work for a full time employed position - often their gigs represent what they want to do in their work and they are much happier than those in traditional employment scenarios.
For businesses, the availability of both especially skilled and unskilled gig workers helps a company to respond to economic instability, boosting their workforce when they need it most and making it easier to access hard-to-find skills (specifically for IT and consultancy, for example).
There are several reasons why the gig economy is becoming more like the new normal of work across the world, but one of the main factors is innovation and technology which is removing some of the barriers and making it easier for people to begin their gigs - digital marketplaces like eBay and Etsy allow people to sell their designs and creations, while Uber and Lyft connect passengers with drivers.
Even freelance designers, writers and other professionals can connect with individuals and businesses to offer gig services through sites like Upwork and Fiverr.
1. The number of gig workers is expected to grow
Looking at data from previous years, we can see an obvious growth in gig workers. In 2022, 57.3 million people in the US completed some sort of freelance work, whether that was as a side hustle or their main source of income, and that figure is predicted to reach 86.5 million by 2027.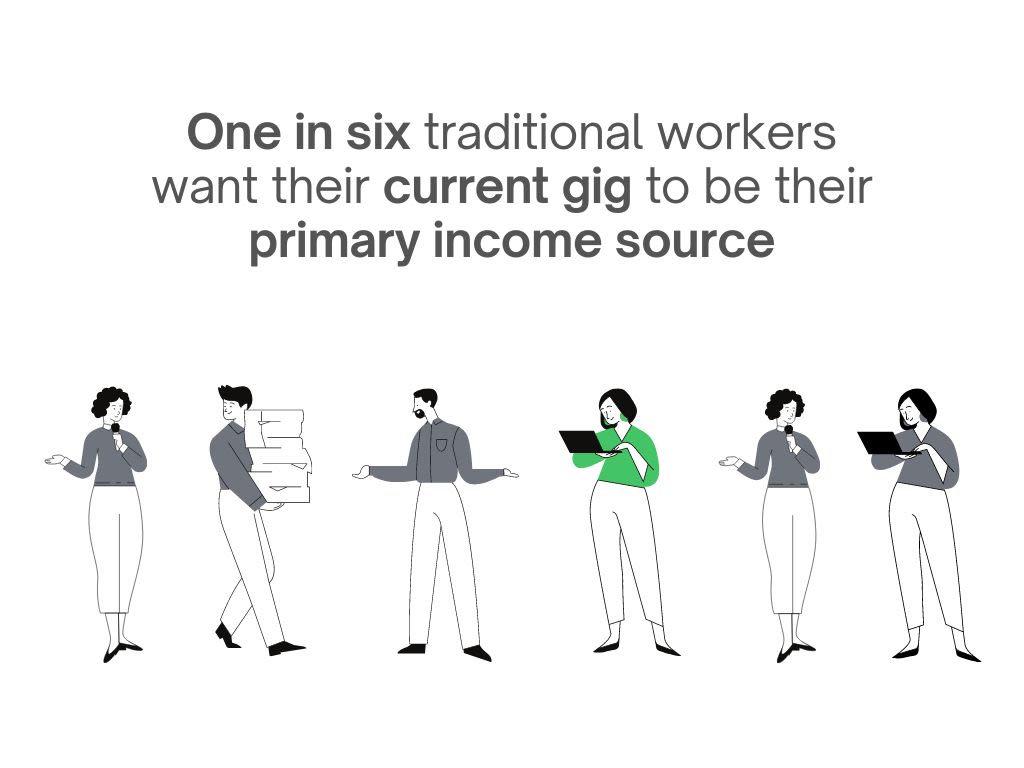 Around [64% of full-time workers want to do some form of "side hustle"], while one in six traditional workers want their current gig to be their primary income source.
Adding that to the 17% Compound Annual Growth Rate (CAGR) of the gig economy predicted by the Mastercard report, we can expect to see that more people are likely to start taking on gigs either as a "side hustle" to supplement their main income, or as their primary income source.
2. Gig workers will be better educated and have higher incomes
While currently the transportation and asset-sharing sector (covering gigs like Uber and Airbnb) represents more than 90% of the gig economy, for freelancers working for businesses there is much more demand for highly skilled, specialized workers.
Executives understand the importance of the gig economy when it comes to getting workers with hard-to-find skills; more than 75% of them recognize that freelancers and independent contractors are the right way to source these when needed.
It is also interesting to see that 33% of freelancers work in IT; a third of the total number of professional-level freelancers.
What this means is that independent contractors who are providing an in-demand specialist service will be better educated and have more experience - and they can command a better income.
While the average freelancer hourly rate across the globe is $21, in 2018 3.3 million (or 21%) of US full-time independent workers claimed annual earnings of $100,000 or more.
3. The gig economy will be more globalized
The biggest market for the gig economy is undoubtedly the US, followed by the EU - but coming in third is India. Growing at an exponential rate thanks to the development of technology, freelancers from India can offer a number of skills to the global economy.
36% of US workers participate in the gig economy, either as their primary or secondary source of income.
In the UK, the figures are slightly lower, with about [15% of people] completing some form of "platform work" (a gig found on a technology platform like Uber or Fiverr) at least once a week.
What is really interesting is that 24% of the gig workers in the world came from India, and about 40% of the freelance roles offered globally come from India.
However, as technology grows and the opportunities for access to the gig economy become more mainstream and widespread, it is easy to see that freelancers, independent contractors and temporary staff could potentially be hired from anywhere on the globe with an internet connection.
For recruiters and the HR department, this opportunity to get the right workers - at the right price - will expand almost exponentially through globalization.
4. Gig workers will be more independent and have more control over their work
What is becoming more obvious, especially through data regarding happiness in work, is that those who are engaged in the gig economy are generally happier in their work than those in traditional jobs.
About 40% of the US workforce make at least 40% of their income in gig work. While some of those people are looking to supplement their main job to cover day-to-day expenses, most are using it as an opportunity to do something that they really enjoy, with 64% of gig workers reporting that their gig is their preferred type of work.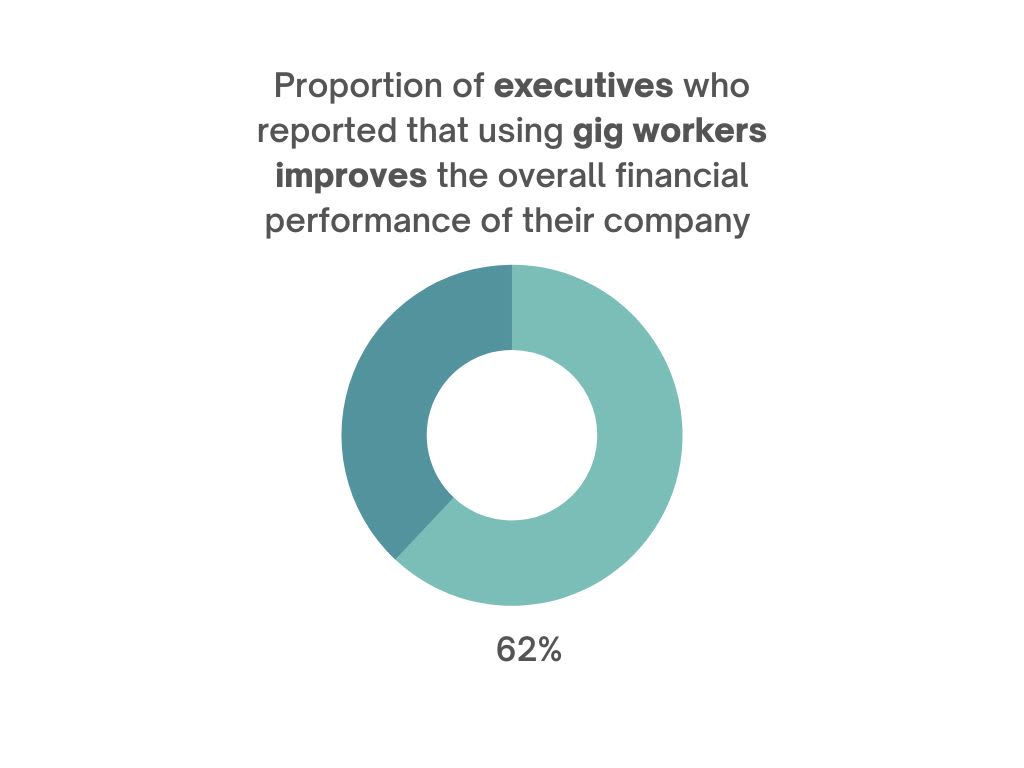 For the gig workers, then, more independence means that they can really pick and choose what they want to do. 62% of executives report that using gig workers improves the overall financial performance of their company, which means that they are more likely to outsource some roles, particularly those that require specialists or hard-to-find skills. Having more in-demand experience and knowledge gives the freelancer the ability to choose their portfolio of clients as they see fit.
5. Innovation and technology will drive the gig economy forward
The vast range of gig work that is available through online sources is one of the main driving forces behind the growth of the gig economy, and as innovation and technology develops this is likely to increase.
While the growth of platforms like Uber has been huge over recent years, we can expect there to be some form of slowdown for new drivers - if it were to continue the way it has been, within five years every American worker would drive for Uber.
However, there are other online sources of gig work. 15% of independent workers have used sites like eBay and Etsy, mainly for art and design work.
Up to 40% of those who lease their assets (i.e. Airbnb or HomeAway) regularly use an online platform to find guests.
What is really striking for the future of the internet in terms of the workforce is that 69% of those aged 18-24 use the internet to source their gigs, whether that is from a platform, a job agency, or some type of online marketplace.
Younger workers are more likely to turn to the internet for almost all information gathering, looking for work, and communicating with others; WhatsApp and FaceTime as well as the popularity of Skype make it easy for instant communication across the globe.
The unprecedented levels of gig work are not all about the growth of technology or the education of the workers, but about the opportunity for individuals to work the way that suits them best, supplementing a traditional job income with something that they enjoy doing, or having the opportunity to work independently with all the freedom that entails.