The workforce is ever-changing, and with that so is the importance of diversity, equity and inclusion (DEI) in the workplace. As our world progresses, it's critical that businesses do too.
What you'll find in this article:
The definition of DEI

Statistics about the current state of DEI policies in the workplace

The consequences of a lack of DEI initiatives

Companies that are doing DEI right

The next steps to increase DEI
What is DEI?
DEI is an acronym for diversity, equity and inclusion. These three words are often used together in the workplace to describe the goal of creating a more diverse, equitable and inclusive environment.
"Diversity" refers to the variety of ways in which people are different, including race, ethnicity, gender, sexual orientation, age, religion, socioeconomic status and physical abilities. The goal of diversity is to create a workplace where all employees feel valued and respected for their unique perspectives and backgrounds.
"Equity" describes the fair treatment of all employees, regardless of their background or identity. Equity means that everyone has the same opportunities to succeed and advance in their career.
"Inclusion" is about creating a space where everyone feels welcome, respected and valued. When it comes to DEI, inclusion is about making sure that everyone has a seat at the table and a voice that is heard.
So where are we now when it comes to DEI in the workplace?
Workplace statistics: where are we now?
According to Monster's survey, 30% of organizations admitted to not having any formal diversity and inclusion strategy. More than half of the individuals polled believe that their employer should have a diversity and inclusion strategy.
Companies that do not have a formal DEI strategy are missing out on the many benefits that come with creating a truly diverse workplace. For example, cash flow is 2.3 times higher per employee at companies with a diverse workforce. A diverse workforce brings with it different perspectives and ideas, which can lead to improved decision making and increased productivity.
When it comes to gender diversity, Australia seems to be taking the lead. The Workplace Gender Equality Agency revealed that the number of women in leadership roles has increased by 11% since 2019.
This has been attributed to the growing number of companies that are looking to promote diversity within their ranks. This is a positive trend that is sure to continue, as more and more women enter the workforce and prove themselves capable of leading successful businesses.
However, there is a severe lack of racial and ethnic diversity among top executives in the US. Washington Technology's research shows that only 5.6 percent of executives are black men and women. This is significantly lower than the 7.1 percent of executives who are either Hispanic or Asian. The study also found that the vast majority of executives are white men and women.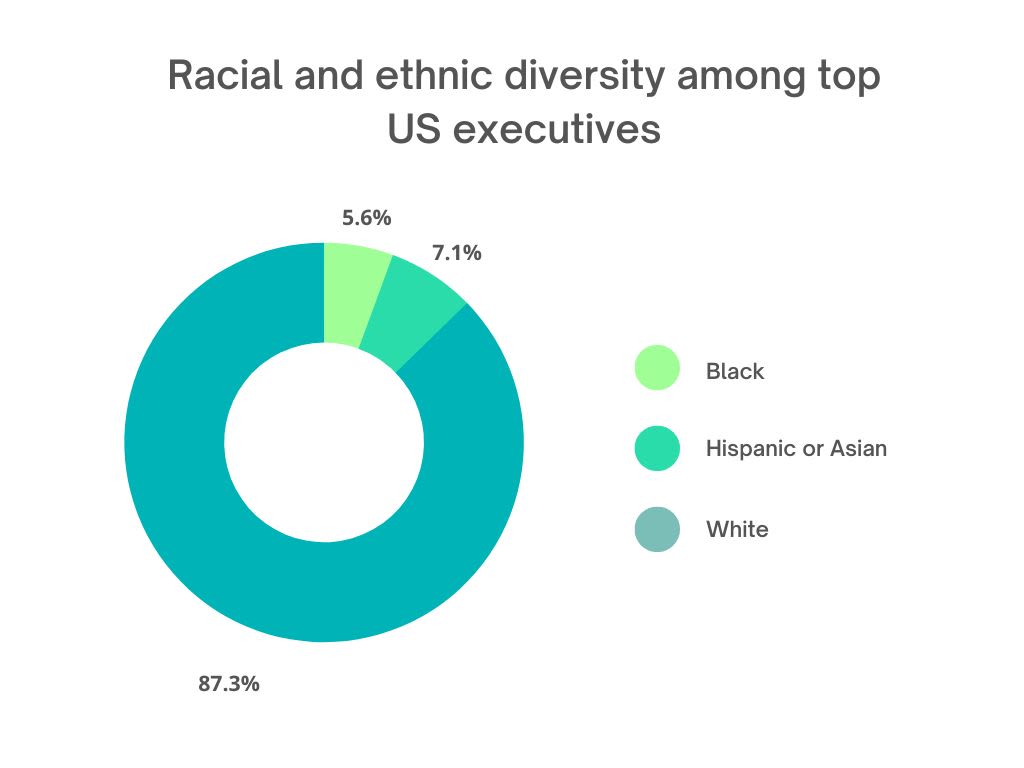 The data is troubling for a number of reasons. First, it suggests that black men and women are not being given the same opportunities as their white counterparts. Second, it raises questions about whether or not companies are valuing diversity. And finally, it underscores the need for more research on this topic.
Lack of DEI in the workplace: what are the consequences?
The lack of DEI in the workplace can have far-reaching consequences. For one, it can lead to a hostile work environment for employees who do not feel represented or valued. This can result in high turnover rates, as well as decreased productivity and morale.
A lack of DEI can also limit an organization's ability to attract and retain top talent. More than 60% of job seekers say that DEI is a crucial factor when considering whether to work for an organization.
Furthermore, a Deloitte survey revealed that diversity and inclusion are a top priority for 83% of Millennial employees as they are more likely to be engaged in a diverse workplace.
In today's increasingly competitive marketplace, companies that fail to embrace DEI will likely find themselves at a disadvantage.
Businesses with DEI initiatives: what are they doing right?
As the workforce continues to diversify, businesses are taking note and working to create a more inclusive environment for all. But what does that mean, exactly? And what are some businesses doing right when it comes to DEI initiatives?
Accenture
Accenture, a leading global professional services company, has been successful in implementing DEI programs. The company has been committed to creating an inclusive environment for all employees, and this has been reflected in its policies and practices.
For example, 60% of Accenture's board of directors are of diverse racial and ethnic backgrounds, 50% of them being women. They have also implemented unconscious bias training for all employees.
Inclusion is a core value at Accenture, and the company is continually working to create an environment where everyone feels valued and respected. Their efforts are paying off – Accenture was recently ranked #1 on the DiversityInc Top 50 Companies for Diversity list.
Coca-Cola
Coca-Cola has several programs in place to support DEI initiatives, including training for employees on how to foster an inclusive environment. Coca-Cola also offers employee resource groups (ERGs) for employees of all backgrounds to come together and support one another.
The company provides development opportunities for underrepresented groups and offers mentorship programs to help employees grow their careers.
Additionally, Coca-Cola has a parental benefits policy that includes 6 weeks of paid leave for both new mothers and fathers, as well as expanded child care benefits and support for adoption and surrogacy.
Google
As the world's largest search engine, Google has a unique responsibility to foster diversity and inclusion (DEI). The company's DEI programs are designed to promote an inclusive environment for all employees, with a focus on four key areas: recruitment, retention, training, and development.
Google's DEI initiatives have been successful in attracting top talent from underrepresented groups. To address the diversity gap in tech, Google has invested $50 million in historically Black education institutions in the United States.
Once hired, Google provides employees with ongoing support through its many DEI programs. These include unconscious bias training, mentorship programs, and employee resource groups (ERGs). ERGs allow employees to connect with others who share similar backgrounds or experiences.
How to improve DEI in the workplace: next steps
As the workforce evolves, so too must company culture if businesses want to stay ahead of the curve. A Glassdoor study showed that nearly 50% of employees believe their company could do more to improve diversity, equity and inclusion (DEI).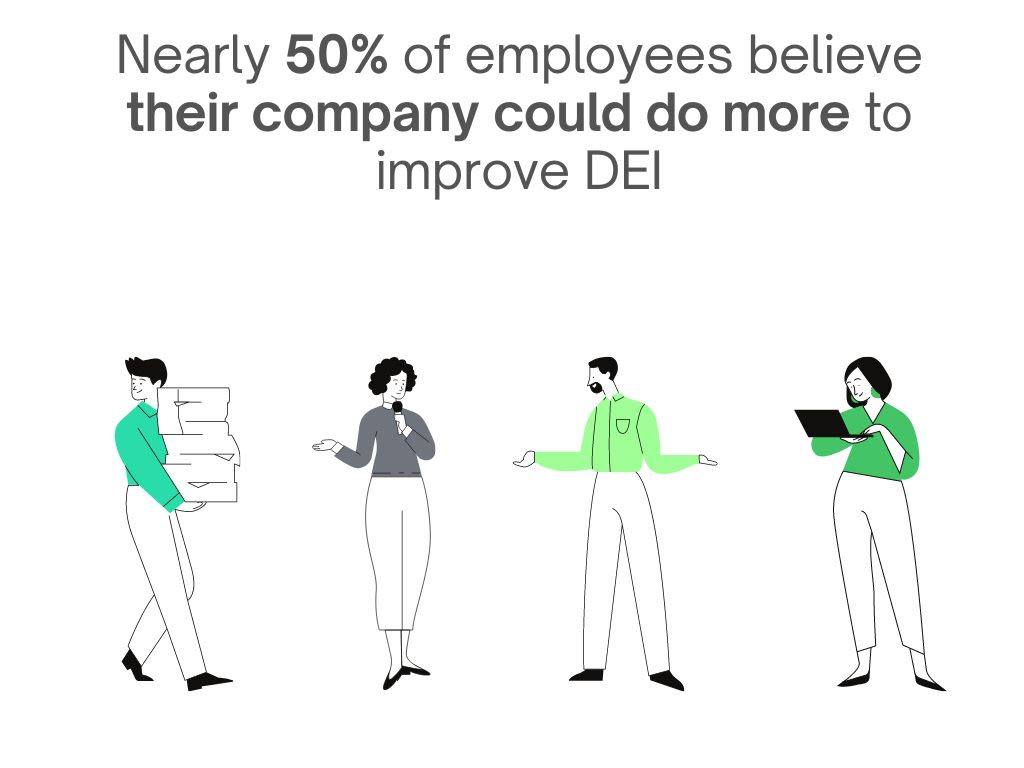 So, what are the next steps for businesses that want to better their DEI policies? Below are a few key ways to make your workplace more inclusive for everyone.
Educate yourself and your employees on what DEI entails. This can be done through books, articles, online courses or in-person training sessions.

Conduct an audit of your current workplace policies and procedures to see where improvements can be made. Are there any areas that may unintentionally exclude certain groups of people?

Make a commitment to hiring a more diverse workforce at all levels of the company.