With everything that has happened in the last few years, what we consider to be 'the workplace' is in flux and changing fast. Through technology and innovation inspired by new challenges like the COVID-19 pandemic, employees now have even more choices about how they want to work - and this is becoming more obvious as 'The Great Resignation' seems to be showing no signs of slowing down.
In August 2022 according to the Bureau of Labor Statistics, 4.2 million Americans quit their jobs, which is little changed from the previous months, and an indication of the general apathy of staying with a role that does not offer the employee what they want and need.
Even as we enter the last quarter of 2022, things are still changing and developing - a widespread economic crisis affecting the cost of living, the Russia/Ukraine war, and a world that is slowly recovering from the lockdowns and upheavals of the pandemic.
What this means is that for businesses to stay relevant, hire the right people, and react quickly to the fast-paced changes in what employees want, they need to be aware of the workplace trends that are likely to be coming in 2023.
1. Remote and hybrid work
74% of US companies are already using hybrid work models or are planning to move to one, and between June 2019 and June 2021 the number of online job searches for remote opportunities increased by 460% and has held steady since.
In 2021, 58% of job seekers were looking for fully remote work, and 39% wanted to combine in-office and remote work, while 79% of C-Suite executives say they plan to allow remote working to some degree if the job allows for it.
Employees are reticent about returning full-time to the office and actively seeking opportunities that allow them to either work completely remotely or adopt a hybrid approach with some days in the office and some at home.
While remote working might have been the norm during the pandemic, the slow move back to the office has come with the idea that employees can be just as productive remotely - if not more so in some cases.
It seems to be working, too - as 63% of high revenue growth companies have what is known as a 'productivity everywhere' mindset which most resembles hybrid working - companies like Apple, Spotify, and Amazon, for example.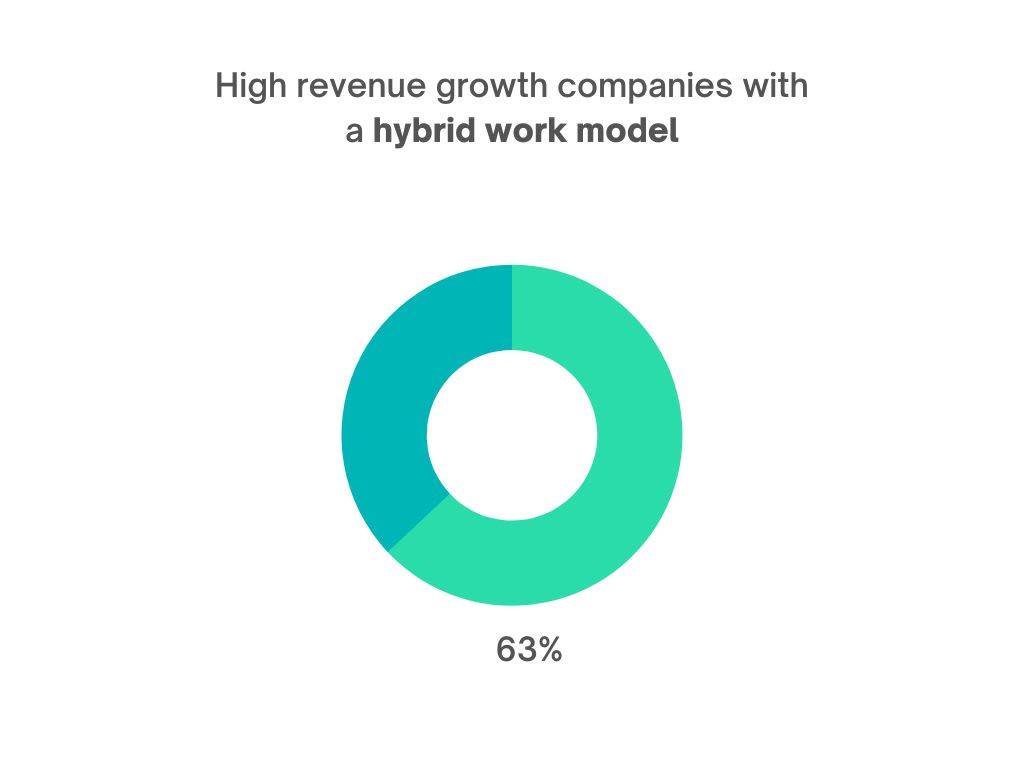 2. Flexible hours
Flexibility is not just about where an employee works, but also when. Flexible hours reflect the fact that the 9-5 is becoming obsolete, and some people work better early in the morning, or late in the evening.
Some employees want a condensed work week where they do 10 hours a day, but only for four days - and the four-day work week is coming back into the conversation in the UK as a normal working practice.
13% of workers who worked from home said that having a flexible schedule increased their productivity, and much of this is to do with personal empowerment and having control of their schedule.
Flexible hours can work to cover core hours (say between 11am and 3pm) which is when everyone is meant to be available for calls, conferences, training and meetings, but the rest of the working day is up to the employee. Some offer truly flexible arrangements that allow employees complete freedom about when they work.
This has a positive effect on productivity, too - flexible workers actually work 1.4 days more per month than those on the standard 9-5.
3. Hiring for soft skills
Soft skills have always been important when hiring, but in a workforce that is becoming more remote, having employees with the right skill sets make building virtual relationships easier - and they are able to work with reduced oversight and supervision.
34% of employers are looking specifically for soft skills related to leadership, but other attributes like interpersonal skills, especially communication and teamwork, are essential for building high performing teams and creating a supportive, inclusive, and above all, productive culture.
Hiring for soft skills used to be difficult - they were always seen as more intangible than the hard skills that could be demonstrated with qualifications and certification, but more and more companies are making use of soft skills testing to get the candidates who have the necessary abilities and qualifications as well as the right level of soft skills.
4. Gamification
Gamification in the workplace is something that has been used for a little while in recruiting, but is being used more extensively to help with employee engagement.
Leaderboards, badges and rewards (whether physical or virtual) can be used both to encourage competition and enhance training - 83% of employees felt more motivated to complete their training when it was gamified.
Gamification in recruitment is growing - 45% of candidates have already come across some type of game-based pre-employment screening, and it has a positive impact on the way that candidates will view the company too - 78% say that having gamification as part of the recruitment process makes the company seem more desirable.
5. Collaborative work environments
According to Knight Frank, 55% of businesses are looking to create more collaborative spaces in the office, and 54% are planning to increase hot desking.
This development of more agile working places is a response to a flexible approach to work scheduling and locations - as more workers choose remote or hybrid working options, the office becomes somewhere to collaborate with teammates, take part in training and development opportunities, get together to celebrate a victory, or hold meetings both internally and externally.
The office isn't necessarily the place where the 'nitty gritty' daily tasks happen, but somewhere that teams can come to feel connected, with more businesses opting for breakout areas and quiet pods rather than the old-fashioned rows of desks.
6. More focus on people analytics
People are the backbone of any business, and thanks to the development of technology and data, HR is transforming with the ability to truly get to know its people through analytics.
Analytics can be used in applicant sourcing and acquisition, and it can be used to track turnover and create retention strategies.
The drive to create more people-centric companies stems from the individualism behind 'The Great Resignation' - and companies that use people analytics to learn more about individual needs and wants are ten times more likely to be able to deliver effective insights into what really matters.
As we head into 2023, we can expect to see people analytics making a strong leap into personalized development plans, helping to future-proof businesses with solid succession plans, and helping staff move into positions more suited to them through internal mobility.
7. Employer branding
As we move into 2023, recruitment teams will become even more like marketing teams as they work to create a brand that attracts top talent.
To be able to compete for the best candidates, employers need to stand out from the crowd - and they can do this better if they have a recognizable brand that stands for something and offers a consistent message.
It's not a new concept, but when you consider that 86% of passive candidates will research a company before applying for a role, you can see that building trust and developing a well-thought-out marketing plan for the company that includes recruitment as well as the consumer and the supplier is really important.
Some of the best recruitment results come from internal referrals, which won't happen without a strong brand identity, and companies that have a recognized brand find that their recruitment costs and turnover are reduced by 50%.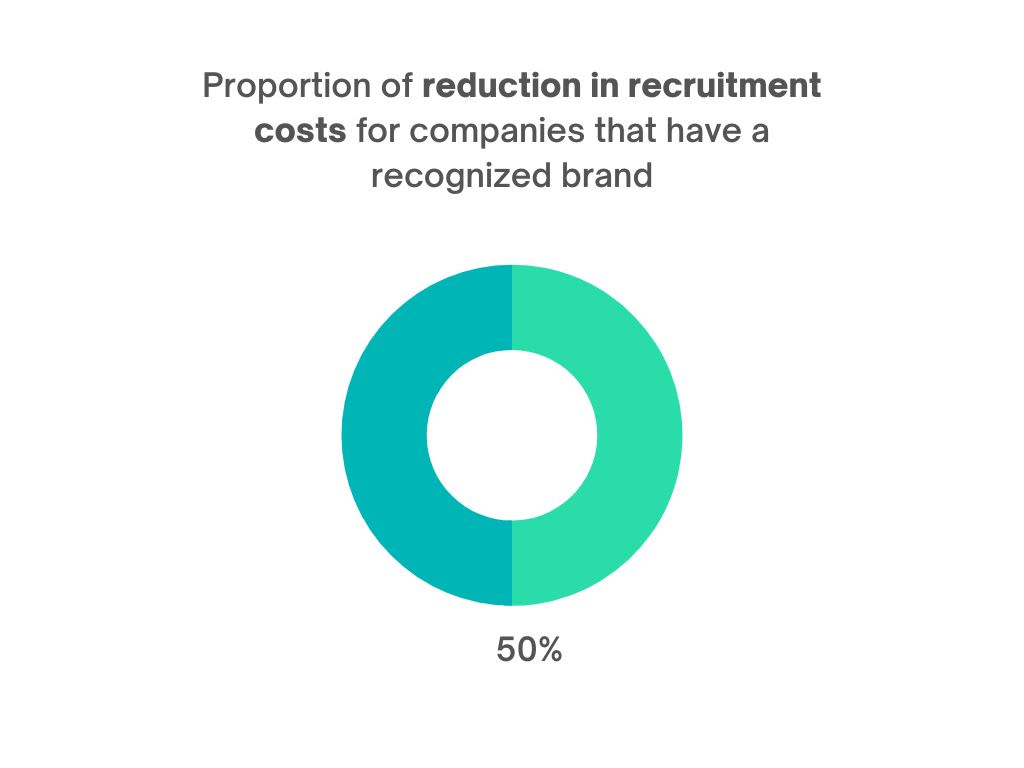 8. Better benefits packages
84% of companies state that in a post-pandemic world, employee health and wellbeing is very important to them, and this can be seen in the range of benefits that are on offer for candidates looking for a new role.
The benefits that mean the most to an employee will vary depending on the role, industry, and level, but there are some universal constants such as retirement planning and healthcare that have to be part of any benefits package.
Unique perks might be what sets your company apart, from interesting away days to personalized discounts at local retailers, free snacks or coffee, or even subsidized food at an onsite healthy restaurant.
With the expense of getting a qualification, 75% of employees are looking for tuition reimbursement, for example.
Perks have to be consistent, and they have to be relevant.
9. More businesses relying on freelancers and contractors
The gig economy is not going anywhere, and it continues to grow. 14% of the workforce was engaged in contract or freelance work in 2014, and by 2020 that number had risen to 35%. According to a survey by Mastercard, the gig economy is set to be worth $455.2 billion globally by 2023.
For employers, the ability to get fast access to skilled and specialist freelancers, without the usual costs of an employee, is a no-brainer. Gig workers are there when they are needed, and cost considerably less in time and money than hiring someone as an employee to do the same work.
For the freelancer, opportunities to work in different roles across multiple industries, setting their own schedule and choosing their tasks offers flexibility and convenience, even more so than any flexible or hybrid employment opportunity.
10. Investment in employee development and training
Focusing on training and developing existing employees gives employers a competitive advantage, both to ensure that productivity remains high, and to be attractive to new talent.
What is more telling is that 66% of workers feel that they need to upskill in order to stay relevant in the workplace, so there is more appetite than ever from staff who want to learn more.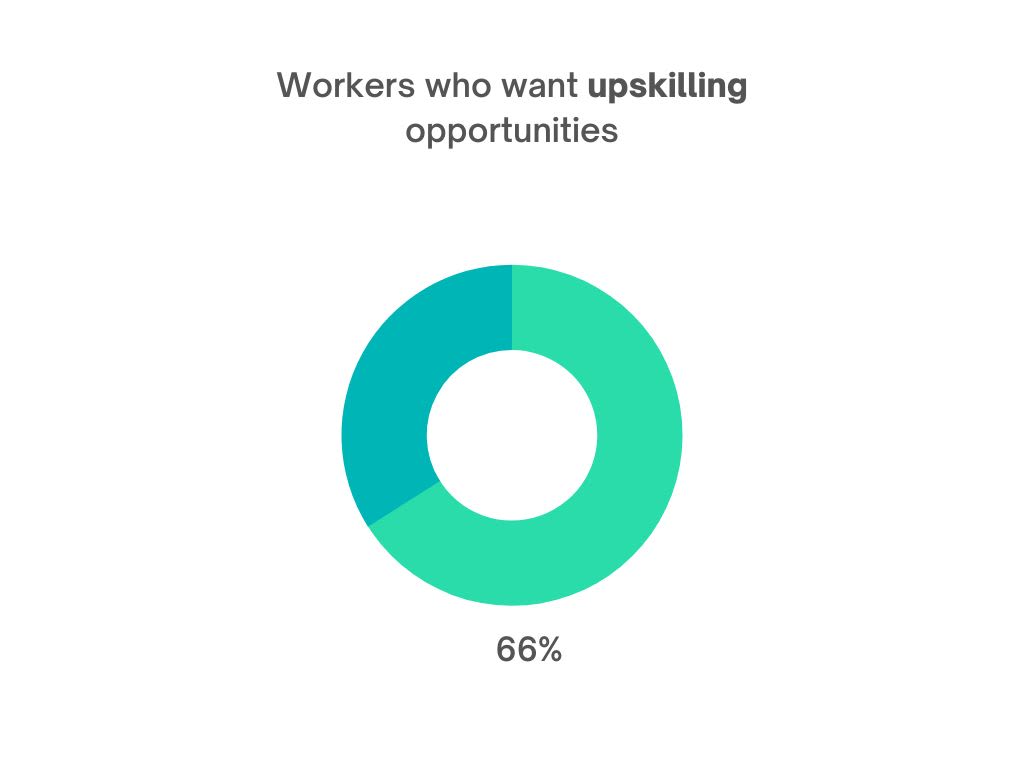 Both upskilling and reskilling should become part of hiring and retention strategies, and thanks to the digital revolution and the technology that is available, this training can be delivered remotely, making it fast and flexible. Investing in development and training helps employees to be more engaged.
Upskilling will have a dramatic impact on the global GDP, boosting it by more than $6 trillion and creating 5.3 million new jobs by 2030.